Search Engine Optimisation
Search Engine Optimisation to get your Business found in your Local Market​
SEO that Achieves Results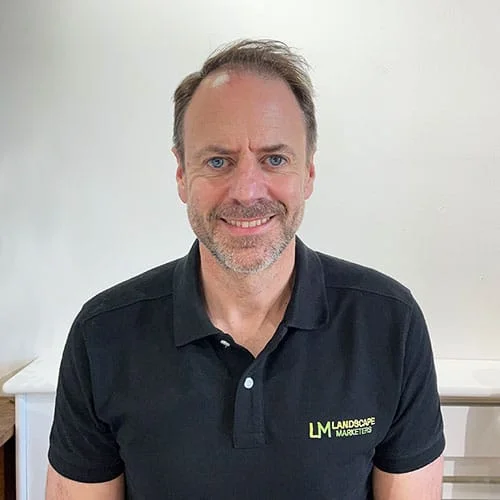 Do you own a Landscaping, Gardening or Tree Service company and want to increase your leads, sales and revenue?
We can help scale your business to the next level with the confidence that your marketing will support sales. We set up reliable lead generation systems that will give you a steady stream of new enquiries every week.
The Steps to Successful Search Ranking
Keyword targeting
Our first step when doing SEO is to see where a company ranks for the most searched keywords. Some of the most searched keywords on Google in the landscaping and gardening sectors are
paving companies near me – 1,600 per month
driveway companies near me – 1,000
resin driveway – 40,500
landscapers near me – 14,800
lawncare – 4,400
fencing contractors – 4,400
garden landscapers – 22,200
garden maintenance – 4,400
tree surgeon – 22,200
The first step to ranking well in search engines is optimising a website's on-page elements like titles, headings and content. This helps search engines understand what the pages are about so that they will appear more prominently – which means you'll get better results!
Optimising your website for Google will help you rank higher in their Search Engine Results Page (SERP) and ensure that people who visit are more likely to find what they're looking for.
The best way of doing this is by creating a list of the most important keywords and using one for each page, making sure the keyword is used in the title, meta description and header tags. It is important not to over use keywords though because that can harm ranking.
When we are doing SEO we are trying to use the most important keywords several times throughout the page and also feature them in headings and sub-headings. We want to do it in a natural way so the text reads well but search engines understand what the page is about. We want to keep the keyword density fairly high without overusing them.
Off-page optimisation
As well as on-page optimisation we also work on off-page optimisation to improve a website's ranking and online visibility. This includes building high quality links from reputable websites, creating social media campaigns and submitting blog articles to high authority publications. Off-page optimisation is a long-term process that requires a lot of work and patience but it is a very important factor in achieving a high ranking in Google search results.
Content development
Content is the king of all digital marketing strategies. Creating high-quality content proves to Google that a website could be helpful to online users, making it rank higher in search engine result pages. Specialising in the landscaping and gardening sectors allows us to understand the markets and what people are searching for. With this knowledge we are able to write a variety of new website text and blog posts for our clients.
Technical SEO
Technical SEO is often overlooked but it's an important part of search ranking. Our team of experts optimise a website's code, structure, and crawlability to ensure that the site's speed is fast, it runs efficiently and appears on search engine results pages (SERPs). We monitor Google Search Console, Google Analytics, and other tools to troubleshoot any potential errors before they negatively affect a website's ranking.
Local SEO
Local SEO is a specialised form of SEO that helps businesses rank higher in a specific geographical area. It is very important for businesses that want to do get more work in their local area. At Landscape Marketers we can optimise both our client's websites and Google Business Profile to appear at the top of Google's local search results. We create keyword-rich location pages and build directory entries that boost local search ranking.
We are experts in marketing for Landscaping, Gardening and Tree Service companies and can offer a variety of marketing services to help you get more enquiries and grow your business.
Marketing Services for Landscaping, Gardening & Tree Service Companies