Developing a website that generates sales leads is an effective way to capture the attention of potential customers for your Paving and Landscaping business. It is crucial to create a compelling website that entices users and motivates them to act.
Here are a few tips on how to develop a website that can generate sales leads:
Easy Navigation
For any business, it is crucial to have a website that offers effortless navigation. Ensure that your website incorporates distinct menus and clearly defined sections, making it simple for users to locate the information they require.
A clear and concise top menu that offers a direct route to your products and services is the most efficient option.
Calls to Action
Including clear calls to action can effectively prompt users to take the next step and get in touch with you, thereby generating sales leads.
Include calls to action strategically on every page of your website. Examples of effective calls to action include "Get in touch" or "Book an appointment". These can be presented as buttons, clickable images, or text links in prominent positions.
Easy to Contact
Ensure users can easily get in touch by prominently displaying your contact information on the website, for example, in the sidebar or footer.
Following a website visit, individuals generally reach out through three main channels: phone, email, or a contact form. Offering all three options is crucial as visitor preferences may differ.
Contact forms are frequently the preferred initial means of communication, as they offer a less direct approach compared to phone calls. Additionally, they are relatively easy to fill out compared to composing an email.
As a lot of people conduct company research outside of office hours, they are inclined to complete a contact form while browsing from home, rather than sending an email or waiting until the following day to make a phone call.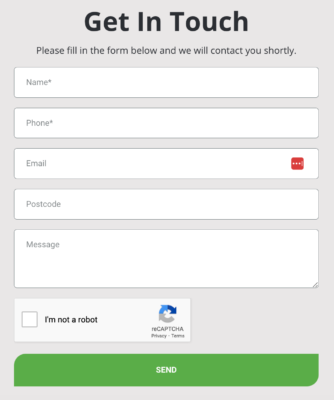 Accurate Information
Make sure the information you provide on your website is precise and current. This applies to both contact details and descriptions of products and services.
Ensure that all details are accurate and current, as outdated or incorrect information can deter potential customers.
It is also important to offer comprehensive and precise explanations of the products or services you provide. This aids customers in comprehending what they can anticipate from your business, fostering trust in your brand.
SEO Optimisation
Implementing SEO techniques is an excellent strategy to attract visitors to your website and generate potential customers.
Begin your research by exploring commonly used keywords that are relevant to your industry. These can then be incorporated into your website content and page titles.
In addition, it is advisable to enhance images and videos by incorporating relevant keywords, and utilising meta tags and descriptions. This can improve your website's search engine ranking, resulting in increased web traffic and potential sales leads for your business.
Visually Appealing
The website's design is also significant. A visually captivating website will attract users and contribute to establish a favourable perception of your brand.
Opt for an appealing colour scheme, utilise high-quality images, and guarantee the site's responsiveness across all devices for the best customer experience.
Your brand's identity should be reflected in your visuals, ensuring that users can easily navigate your website.
Build Trust
Establishing trust with potential customers is crucial for generating sales leads. When they have confidence in your services or products, they are more inclined to make a purchase or reach out for additional information.
Enhance your website with social proof elements like customer reviews and testimonials, while also incorporating any available awards or certifications.
Offering comprehensive details about your business along with valuable resources like tips and tutorials also plays a crucial role in establishing trust.
Use Analytics Tools
Monitor user interactions on your website using analytics tools. This will provide insights into what's effective and what can be enhanced, enabling you to optimise your website for increased lead generation.
Analytics tools can also assist in identifying crucial areas for improvement and targeting potential customers. This enables content customisation, reducing the sales cycle and optimising conversions.
Contact Us Today
At Landscape Marketers we can assist you in creating a powerful website that generates sales leads. Get in touch with us today for further details.